European - Southern African Cooperation in a Globalising World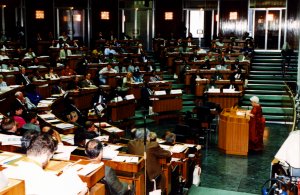 The Vienna Conference
hosted by the Austrian Parliament
in cooperation with the European Network for Information and Action on Southern Africa
October 12-14, 1998
Leading up to the Third European Union / Southern African Development Community Ministerial Conference in November, this conference will provide a platform for parliamentarians as well as NGO representatives both from Southern Africa and from the European Union to discuss relations between these two regions in context of a changing global political and economic environment.
Issues arising from the forthcoming new WTO round, debt management initiatives, structural adjustment programmes as implemented by the international financial institutions and current talks on a Multilateral Agreement on Investment/MAI will be among topics addressed. In addition, the conference will look into current trade negotiations between the EU and South Africa, and into talks about a Post-Lomé dispensation starting under the Austrian EU Presidency. Other topics on the agenda include security issues and the contribution of parliaments, social partners and NGOs towards the governmental political dialogue.
The Vienna Conference of parliamentarians and NGOs therefore aims at reviving the spirit of the largely defunct North/South dialogue and at broadening the EU/SADC political dialogue.
All the subjects covered by the conference are of crucial importance for the economic development of the SADC region, and indeed of Africa as a whole. But as there is also a crucial correlation between societal/individual well-being and democracy, the issues before the conference are also highly relevant for the advancement of human rights and social progress.
Detailed programme of the conference
A comprehensive Report on the conference is available.